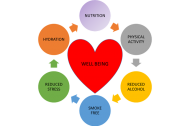 Ash House Nursery launches wellbeing programme - STAYWELL!
The new programme was launched on 4th September 2019 to help staff own and take control of their wellbeing-related goals, as well as to set a high standard for health management across the workforce. The wellbeing programme will additionally help Ash House Manager Christine Taylor to future-proof her existing teams by supporting staff to maintain their health.
To support the launch of Staywell all staff engaged in a yoga session to experience relaxation techniques and identify what to do in times of stress.
Our wellbeing programme Staywell features a range of events and activities that will be tailored to support employees' mental, physical and spiritual health. It will include groups, events and activities chosen by the staff over the 12 months. The calendar of events will be posted regularly to share our successes and best practices.
As part of the new programme, managers will also have the remit to identify employees within their team who may wish to champion the events. The champions will form an important community within the workforce, and we look forward to seeing them helping their teams.
The wellbeing programme was launched to staff by asking them to complete a survey. All results will be shared across the workforce and they will be given the opportunity to shape the Stayell programme going forward.
Keep a look out for our progress and stay well.