Summer Newsletter 2015 Back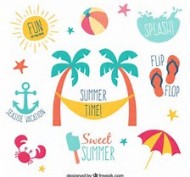 What's New?
There will be a number of staff changes within the nursery as the new term approaches. These changes are required to accommodate the needs of the children within our care. A letter with full details of the changes will be sent out and all parents/guardians will be informed if this means a change of key worker for your child. If you have any concerns as a result of this please speak to a member of our team.
Special points of interest:
Whats New
Staff News
School Transition
Leaving Dates
Send in your pictures via Email
Requests
Our new website
Find us on Facebook
Card Payment Facility
Staff News
Welcome Back Aimee Ryan
Aimee is due back to work at the end of September following her maternity leave with baby Freddie.
Good Luck Beth Reilly
As most of you know Beth is expecting her second child and is due to go off on Maternity Leave in August. Good Luck Beth, we look forward to meeting your new bundle of joy.
Goodbye to Ros Scott
As Ros' maternity leave comes to an end, she has decided it is best for her and her family not to return to work at this time. Thank you for all your hard work Ros you will be missed.
Transition to Primary School
Here at the Nursery we do everything we can to ensure that the children have a smooth transition from the Nursery setting to Primary School, as we know this can be a difficult time for both parents and children. All of the primary school teachers are invited into the nursery and visits to the new schools are also arranged along with lots of behind the scenes preparation with the children. This is done in order to build relations with the new class teacher and also for the children to familiarise themselves with their new settings. If you have any concerns regarding your child's transition do not hesitate to speak to a member of staff.
On this note please may we remind parents/guardians that we require one months written notice of your child's leaving date. In addition we can confirm that the government Early Years Entitlement for 4 year olds, runs up until the 17th July 2015. Your child is more than welcome to attend nursery after this date, however, payment will be required for the same.
Lets Talk About You!
To help us get to know you and your children we have been asking that parents and guardians send in their pictures of any outings, trips, special occasions and holidays. These will then be displayed on our white board and the children will be given the opportunity to chat about their experiences. The children thoroughly enjoy sharing their experiences and this in turn helps them gain confidence.
Baby Room E-mail:
babyroom89@hotmail.com
Tiny Tots E-mail:
tinytots89@hotmail.com
Pre-School E-mail:
preschool89@hotmail.co.uk
Just a little reminder
We do everything to ensure that the children are happy warm dry and protected at all times but we need your help to make this a little easier. Please make sure your child has what they need for their day in nursery, bearing in mind we do like to get outdoors frequently.
SUMMER IS HERE!
Please ensure your child is dressed appropriately for the weather. We ask that you bring in sun cream and a hat to be left here at nursery during the summer months.
Every child has a peg, a bag of essentials can be left in nursery and replenish as and when necessary. We suggest the following items to be kept in their bags.
Checklist for your child's nursery bag:
Spare clothes
Spare underwear
Coat/Jacket
Wellies
Slippers
Sun cream
Hat
Nappies
Wipes
Nappy cream
Please ensure that all items are clearly labeled with your child's name.
Environmental Health Inspection
We have recently undergone our routine inspection by the Environmental Health Department and are pleased to announce that we have maintained our five star rating. As a result of the kitchen refurbishment we actually achieved a higher score than the previous inspection.
Children Funded by Early Years Entitlement
We would like to remind parents/guardians that the Early Years Entitlement for 2, 3 & 4 year olds allows children 15 hours per week within the nursery, funded by the government. Sessions have been agreed with each parent and we would appreciate if the drop off and collection times are adhered to as children being brought into the nursery early or being collected late is becoming and increasing problem.